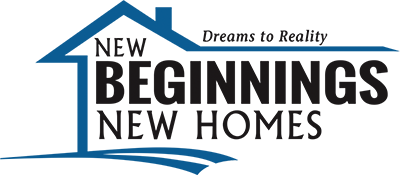 Building Your Home: From Start To Finish
Selecting a design-build new construction home builder is a BIG decision, and it's one that our professional staff at New Beginning New Homes does not take lightly. From our initial sit down meeting to handing you the keys, you will have our experience and passion for home building on your side .. bringing your dream to life! 
We realize that you are entrusting us with one of your biggest lifetime investment decisions. Therefore we take great care to ensure you're guided through the project with each one of your goals at the forefront of our efforts!
We focus on delivering the HIGHEST-QUALITY materials with a DESIGN that fits your LIFESTYLE! All of the New Beginning New Homes plans are customizable and we will help you determine the best finishes available to you based on your budget.
Whether you own your lot and are looking to build a home but you don't have plans, or vice versa, we can help! We will assist you with all of the necessary preparations:  assistance with financing if needed, designing your plan to fit the building site, budget preparation, colors and finishes selection, and most importantly communicating all of that with sub-contractors throughout the entire build process.  But FIRST, we start with a FREE CONSULTATION to meet the New Beginnings New Homes team and answer any questions you may have.
Click on each section below to learn about the different stages of our Design-Build process!
Initial Consultation
We'd love to hear about your vision and welcome you to our new office and of course, view our showroom. We will then go through the preliminary design goals, preliminary cost estimates, and financing pre-qualification needs and of course determine if there are any possible challenges. 
Ultimately, the initial consultation is where you'll express your vision of the home you desire, get to know us and view our past projects and get an understanding of the home building process. Plus, you'll leave with a directive list of the next steps in building your new home!

Practical Steps
Now that you have an understanding of the framework required in building your new home from the initial consultation, the next step is to enter into a Design and Plan Development Agreement and off to work we go for you!
First, we must gather specific information to get ready to build. This includes; engineering, hiring the drafter for plan designs, HOA requirements review, a meeting to review and choose color features and design specifications. Based on your selections, the bidding process starts with subcontractors in order to develop a realistic preliminary budget based on the desired plan, finishes and site evaluation.
With our help, you will then deliver the above information and specs to your lender in order to receive a preliminary loan approval. You will also have a packet that includes; a reviewed site plan, drainage, covenants and restrictions to build ready for building permit submission. The paperwork and design process is complete at this step and then we're ready to build!
Construction Phase
With the planning work behind us, we are then ready to start vertical construction! First, we enter into a Construction Management Contract and begin the construction process. We use cutting edge software called BuilderTrend for scheduling and it hosts a homeowner account option so that you're always on top of the process and well informed. Your account will  include photos of the building progress as well as notes and information from the field.
We will meet you for on-site walk-throughs at different phases and keep you apprised as things move along. Our favorite walk-through is the final one – where we hand you the keys to your new home!
What is a New Home Construction Design-Build Company?
If you have ever looked into new construction, you most likely have come across the term design-build. What does it mean? 
We use the design-build process every day and have seen firsthand how this type of construction benefits new home buyers, and it can do the same for you. This article explains what a design-build company is and what it can offer you when planning new construction.
Why Choose to Work with a Design-Build Company
Design-build construction has been a popular building process for decades. Why? A design-build company joins together all the departments needed for home construction under one roof, which results in some unique advantages.